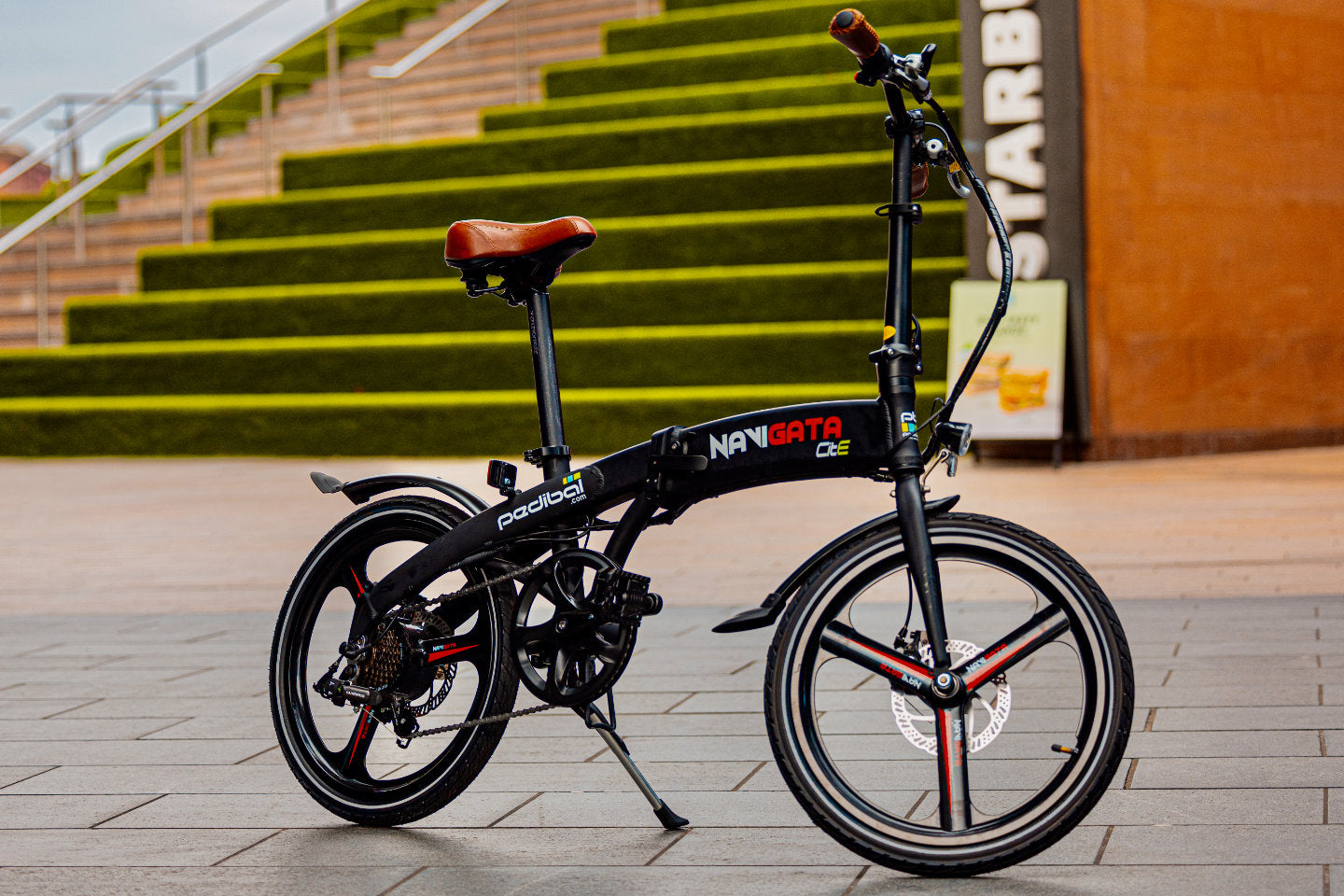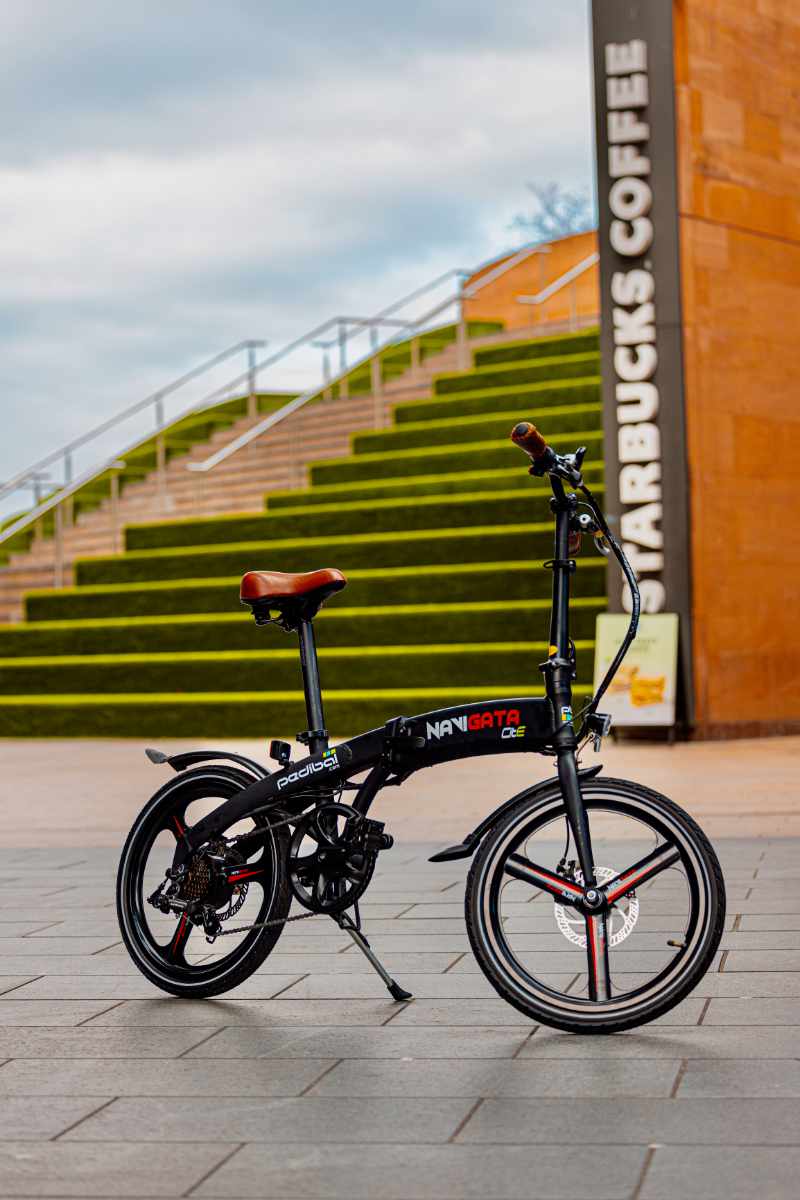 Magnetic Fold with Ease
Pedibal Designed Navigata® Folding Electric Bike
"Best value electric bike to hit the streets" - THE GUARDIAN
Learn More
Order Now
The best-value folding electric bike to hit the streets. Fast and foldable, the new Navigata from Pedibal is a smart electric bike that takes the grind out of city cycling.

Pedibal Bikes' Navigata Cite Folding e-bike is compact and functional travel solution, Arguably a folding e-bike for most applications.

One of the top eco-friendly travel solutions, Pedibal Bikes' Navigata Cite Folding e-bike is compact and functional, making it perfect for city living.

If looks are just as important to vou as NAVIGATA CITE a bike's other attributes (and let's be honest, we all know a cyclist like that), then the eye-catching Pedibal Navigata CiTE could be the bike for you.

Joe Mulcahy's latest bike set to take cycle markets by storm.

The Navigata is a solid all-round option for commuting, and considering its price of £999, it offers excellent value compared with other options on the market.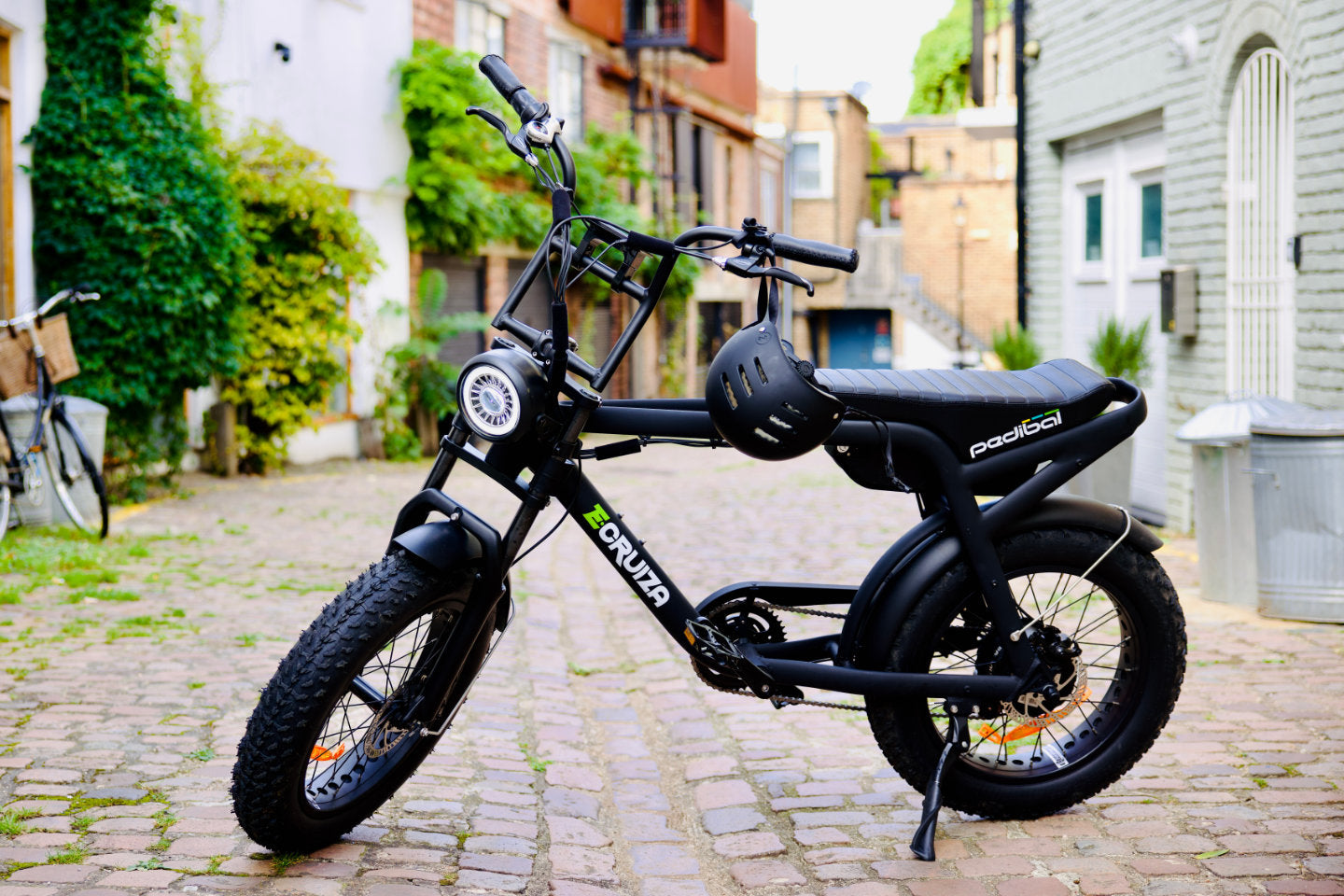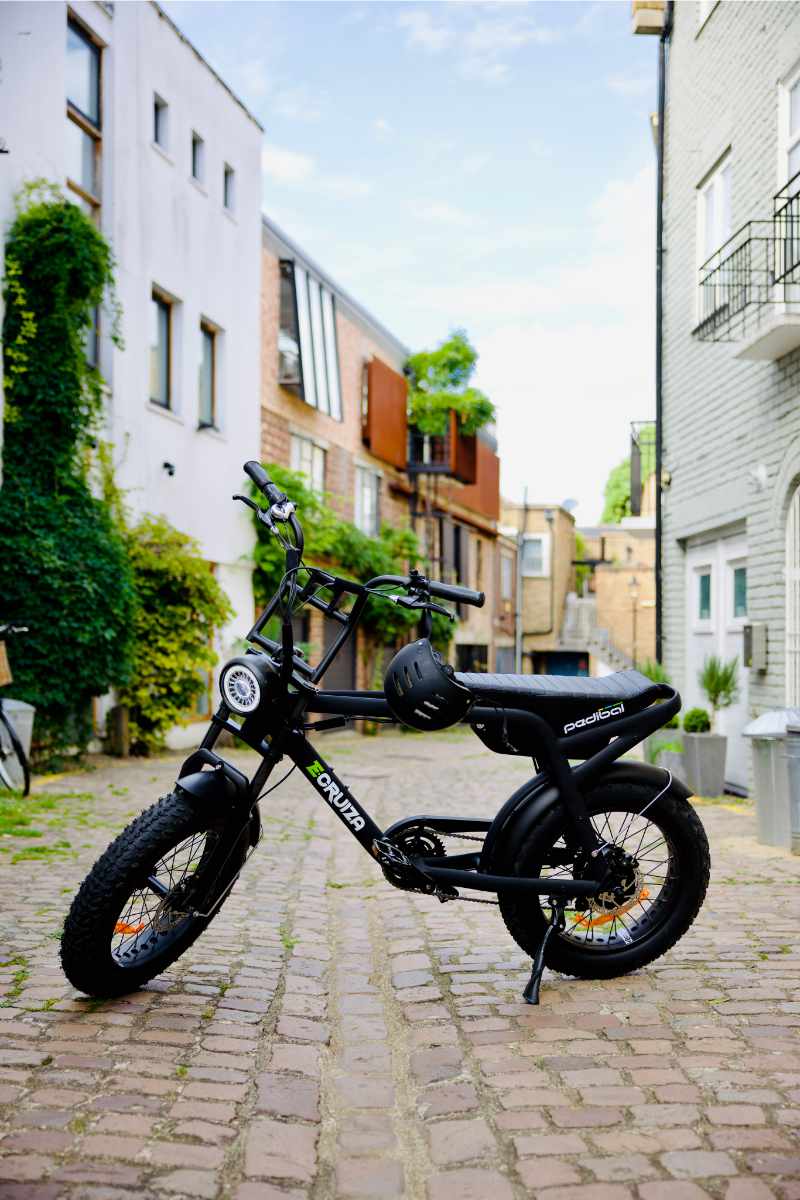 Fat Tyre for All Terrain
Pedibal Cruiza® Electric Bike
80Nm 250W Motor, DVSA Certification Service, 12.8Ah LG Batteery, Robust Fat Tyre.
Contact Us
Order Now
Key Differences
Navigata v.s. Cruiza
Trustpilot Testimonials
Read more than 300+ Reviews
Read this before you buy a bike from this website!!!
We have two folding bikes for Saling and camping and 1 big boy fat wheeled bike for playing in London. I am 20 stone and all the bikes have so much power I was totaly surprised. 10/10 quality 12/10 customer service 13/10 fun!!! 🤩
First Class Service from Pedibal
Excellent Service from the team at Pedibal from the first enquiry to delivery of my bike. Mark, who I dealt with, was first class a real gent and exceptionally helpful.
Ideal for motorhoming dog owners!
This was a second purchase as, having tested the first one , including towing a dog trailer, we knew the Pedibal Navigatas would be ideal for our motorhome trips. Speedy delivery and great value for money.
Brilliant Customer Service
I can't rate this company high enough. I ordered two Navigata CitE bikes which were promptly delivered when promised.
Roger Sharman
This has given me so much freedom. Mark dealt with my purchase from initial contact to delivery. Excellent product and excellent service, thanks to all at Pedibal.
Absolutely delighted with my purchase…
Absolutely delighted with my purchase of a Navigata Cite bike from Pedibal and overwhelmed by their first rate customer care.
I found this purchase a very pleasing…
I found this purchase a very pleasing experience. My wife and I are delighted with the e-bikes and very happy to recommend this company.
I can't praise Pedibal highly enough
I can't praise Pedibal highly enough. The bike is excellent. You can tell a great company by how they communicate and how they handle issues.
This is an excellent folding electric…
The bike is solidly made and manages hills with ease. It was a pleasure doing business with Mark at Pedibal. The bike was delivered within 24hrs of being ordered.
Perfect seller. The bike performs amazing!!!
Perfect seller, contact with him is great. The bike performs amazing, it's light, folds quickly, fits everywhere. I have already bought a second bike for my wife.
Rapid secure delivery
Ordered on Sunday,, arrived on Tuesday! Packed in substantial box with nothing missing. Battery fully charged. The bike itself exceeds expectations and powers up my local hills on power level 2 with minimal effort.
Great eBikes
Sold 2 older eBikes as so heavy and, despite foldable, too large to fit in our car. Bought 2 x Pedibal Navigata bikes and they are perfect - much lighter, fold easily (a few seconds!), can fit both in a Smart ForFour!
Loving this E bike- Very well designed.
The wheels are bigger than a Brompton and make the bike much less twitchy when steering. Pedal assist is well thought out and I haven't needed to go over 3 on the range of 5.
Helping my mobility
I am 80 years of age suffering with arthritic hips with mobility problems I now have unlimited range round my local area and feel like I have my legs back.
Outstanding company and nothing is too much for their customers
My work scheme wasn't linked to their company but after a few phone calls they bent over backwards to accommodate me. Constantly in touch and couldn't do enough.
FAQ
Items ordered before 2 PM on a working day will be delivered by the next working day. Orders after 3 PM will be dispatched the following working day and will arrive 2 working days after the initial order date. The courier service will notify you of the delivery time upon providing contact information.
How do I charge the battery?

On our bicycle the battery can be charged on or off the bike simply by plugging the output lead of the charger into the socket of the battery case and then the power output plug into the household source (socket)
How long do I need to charge the battery for?

First charge should be 8-10 hrs and Normal charge times will range from 2- 8 hrs depending on charge status. If you do not use the vehicle for long periods of time, charge the battery at least once a month, to avoid reducing its lifespan.
How long does the battery last?

This depends on many factors such as weather conditions (wind) and terrain as well as the rider size and weight and how the bicycle is used but on average we would say on average 24 miles as 'normal usage' but this can be as much as 37miles / 41miles in optimum conditions the approximate life cycle of the Samsung / LG Lithium-Ion battery is 500 – 600 cycles (charge and discharge)
What is the weight limit to ride this bicycle?

For this cycle maximum load is 120 Kg 
How and Where can I get my bicycle serviced?

We recommend little bit of maintenance regularly keeping things clean and lubricated especially if you're using your bike frequently, however most reputable bicycle retailers offer a maintenance/service package that can range anywhere between £39-£99. For basic maintenance we suggest:

Tightening and correct operation of both wheels, frame and front forks.

Check Tire pressure and tread conditions.

Check Gearshift lubrication.

Check Bell and reflectors / lamps conditions and function.

Check Braking system operation.

Alternatively, you can visit us in our local shop – Unit 4 Maple Grove Business Centre, TW4 6DR
Will the USB charge my phone?

Yes the NAVIGATA has a USB function capable of charging mobile phones
Do you have to pedal an electric bicycle?

In most cases YES, electric bicycles have varying levels of pedal assist, however Pedibal NAVIGATA has DVSA certification to incorporate a unique 'TWIST N GO' thumb throttle to enable a consistent assistance for a prolonged period.
What is the maximum speed for an electric bicycle?

15.5 mph (UK)

Are there any Laws that are relevant to owning an Electric Bicycle?

The UK law regarding electric bikes is slightly different to EU laws, you can check the full UK laws if you want some more information. If a bike meets the EAPC requirements, it's classed as a normal pedal bike meaning you can ride it on cycle paths and anywhere else pedal bikes are allowed. Key points to consider:

if you're 14 or over you don't need a licence to ride electric bikes that meet certain requirements, and they don't need to be registered, taxed or insuredthe bike must have pedals that can be used to propel itthe electric motor shouldn't be able to propel the bike when it's travelling more than 15.5mphthe motor shouldn't have a maximum power output of more than 250 watts

Laws can and do change without prior warning. These are accurate at the time of writing and we shall endeavour to keep them up to date.
Can I put my Pedibal on a regular car rack?

Yes, you can put an eBike on a regular car rack, but you should be aware of the weight of the rack as well as the weight of the bikes. Pedibal bikes weigh 19kg which may mean that you can only put 1 or 2 eBikes on a rack designed to take 2 or 3 regular bikes.
The bike weight is 19kg.

What's the best part about Pedibal Bike?

This ebike break down barriers to riding. Most importantly, they are incredibly fun. The only one ebike in the UK with DVSA approved throttle.
Is the battery splash-proof?

The battery and LCD display are protected to the level IP65 (we class as splashproof) so ok to use in light wet weather is not designed to be used or stored for prolonged periods of time.
Yes, the battery is locked to the bike and you must use the key provided to remove it.
What if I lose my battery key?

We supply 2 keys that are unique to your Samsung battery and recommend that you obtain a third copy and keep this in a safe place as we are unable to obtain copies at Pedibal for safety and security reasons. The bike can still be charged and operated without key.
Are replacement batteries available?

Replacement batteries are available directly from your seller.