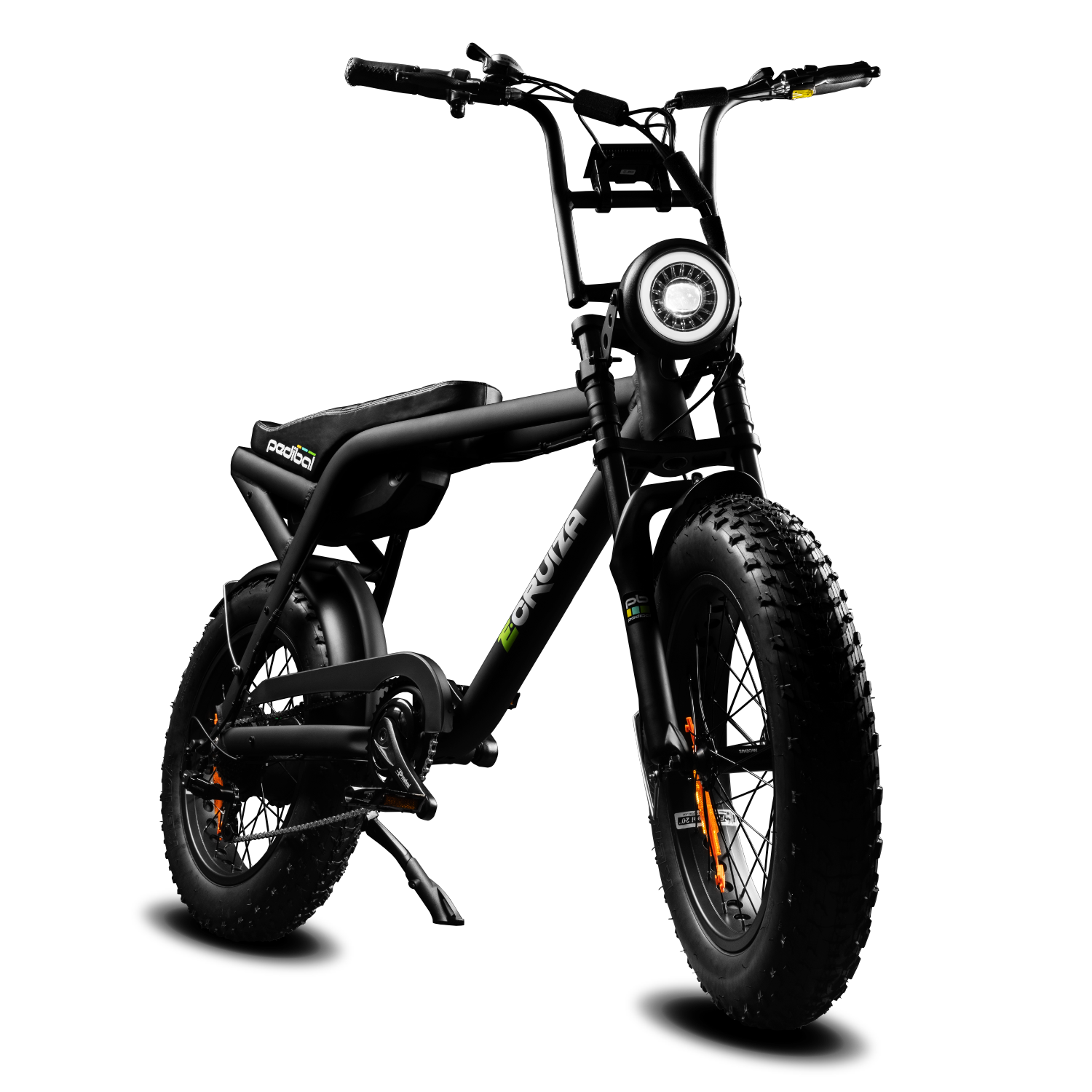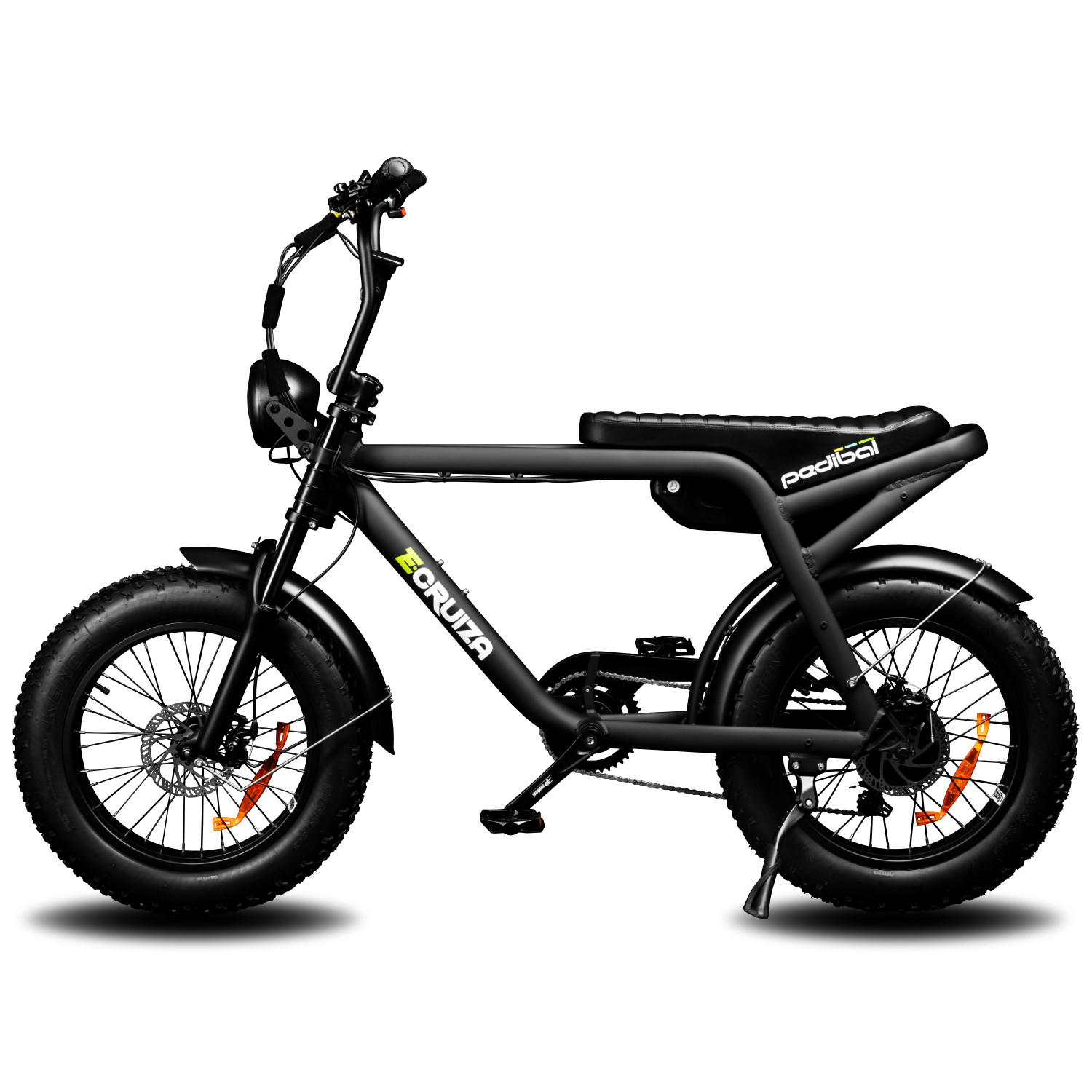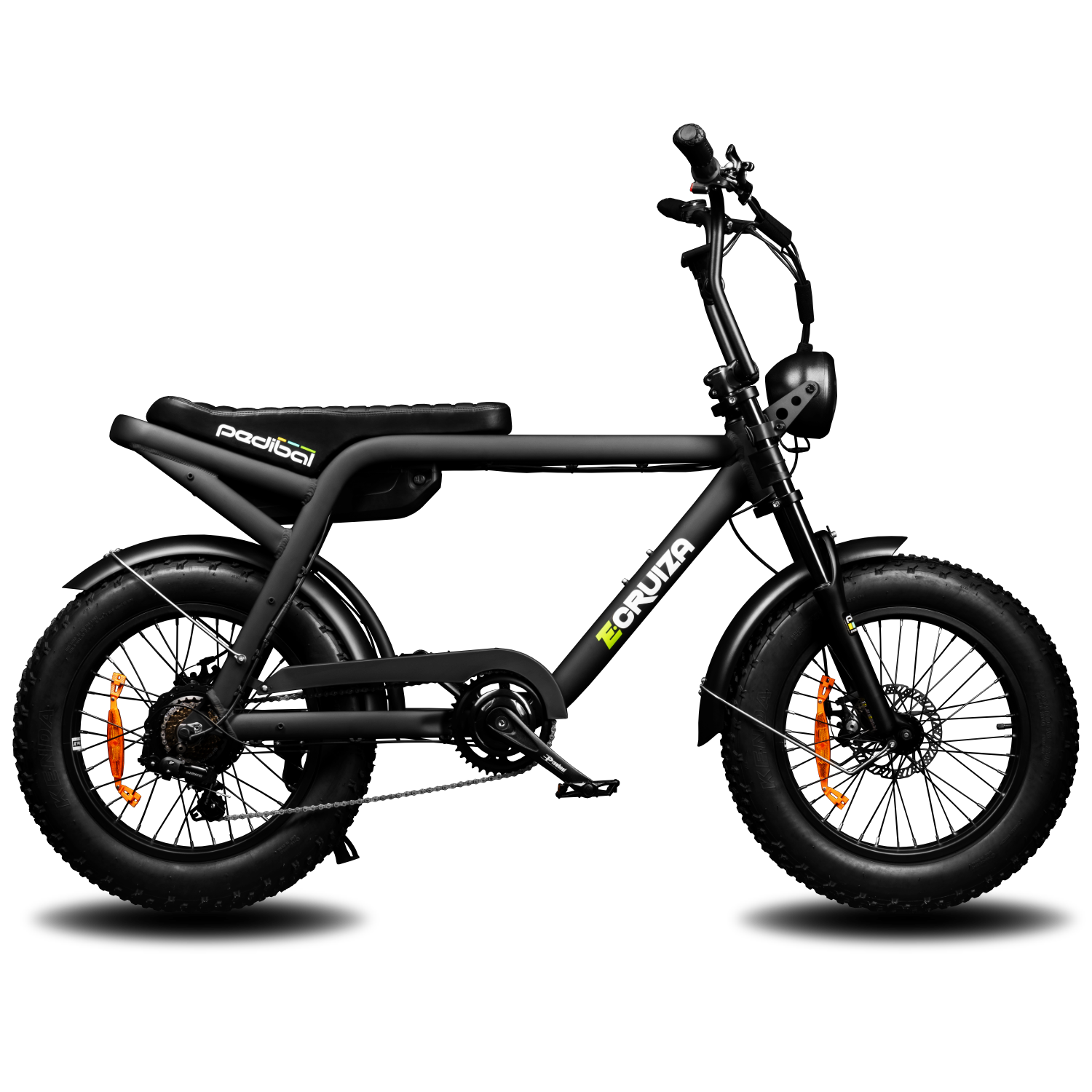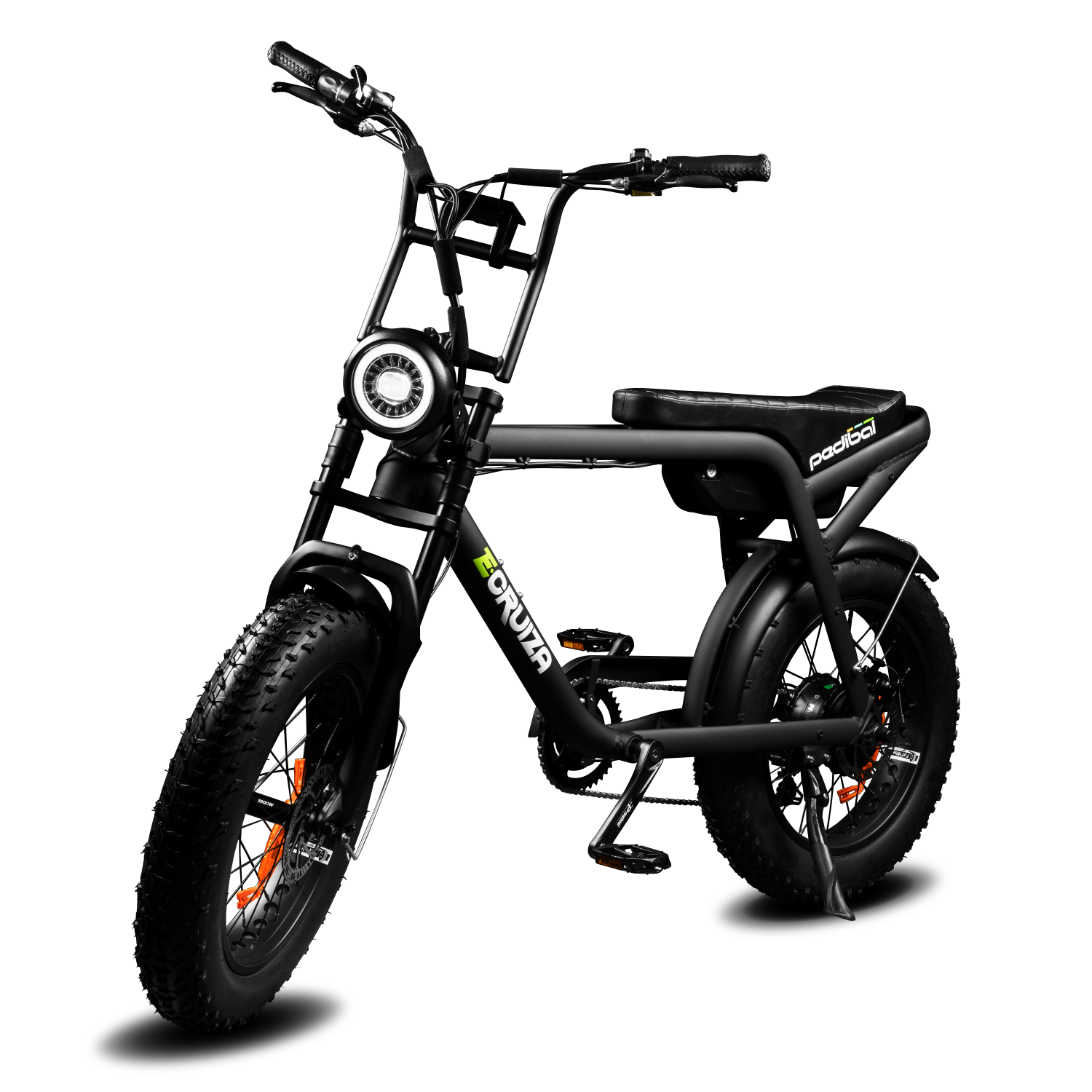 Pedibal Cruiza® Fat Tyre Electric Bike
---
Electric Pedibal Assist up to a Maximum of 15.5mph.

12.8Ah 48V Hidden Removable Superior LG Battery.
High-Performance BAFANG 80Nm 250W Motor.
Front Fork Shock absorbers.
7-speed SHIMANO Gear.
20" Puncture-proof Tyres.
Front/Rear TEKTRO Mechanical Aires Disc Brake.
Mobile Charging USB Port.
Integrated Front Light and independent rear light.
Front/Rear Mudguard Included.
Full-Length Chain Guard.
Large LCD Display.
Colour-coordinated Matt Black Components.
Comfortable Faux Leather Long Bench Seat and Grips.
Suitable for most terrains including light off-road, offers stability and comfort, is ideal for year-round riding, and blends practicality with fun and flair.
What's in the Box
Electric Bike (Integrated Kickstand, Front and Rear Light, Mudguards)


12.8Ah

LG Battery.
Assembly Tools
Instruction Manual.
Charger.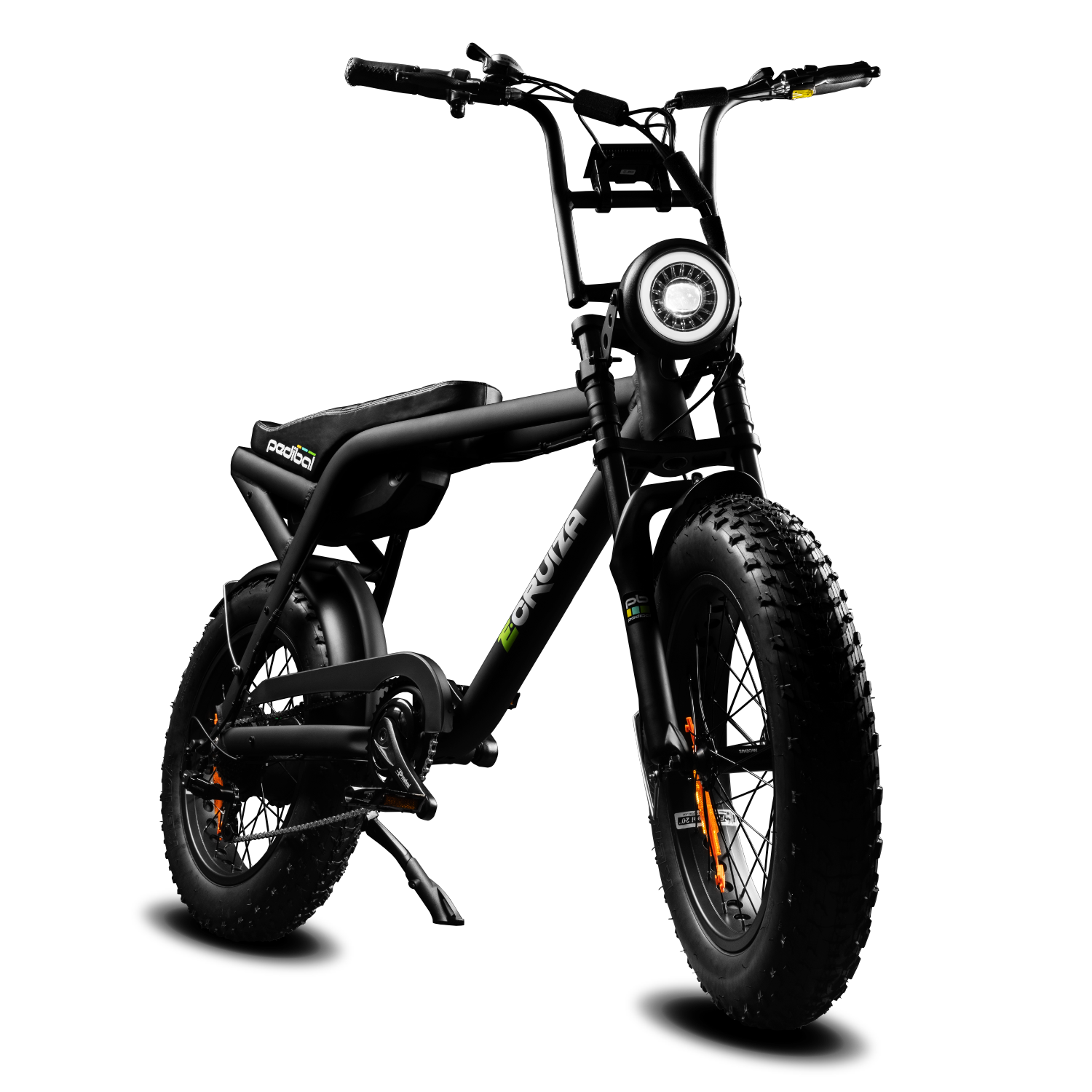 80Nm
Conquer Any Terrain with Ease: The 80Nm BAFANG 250W Motor Powers Your Adventures.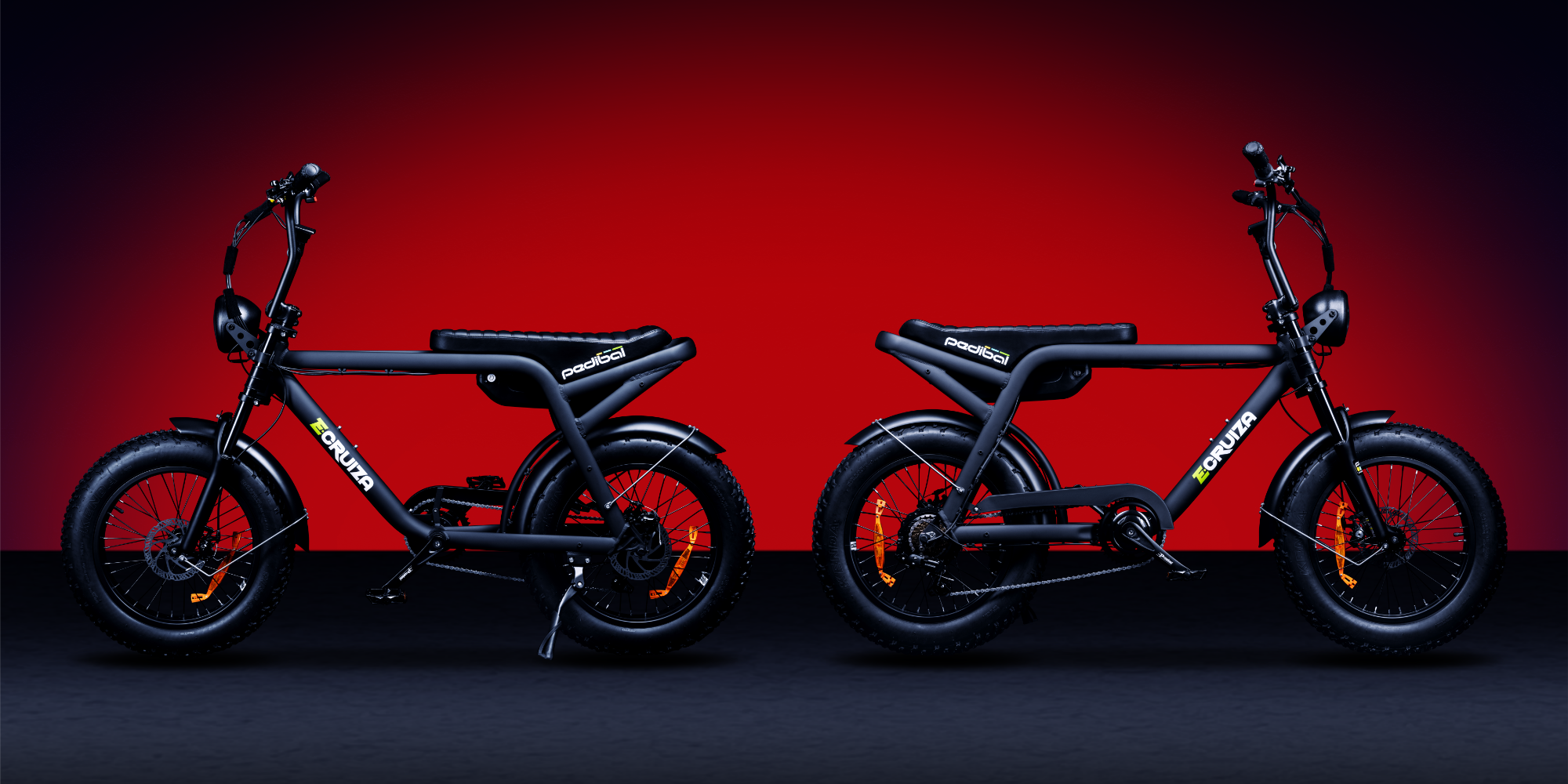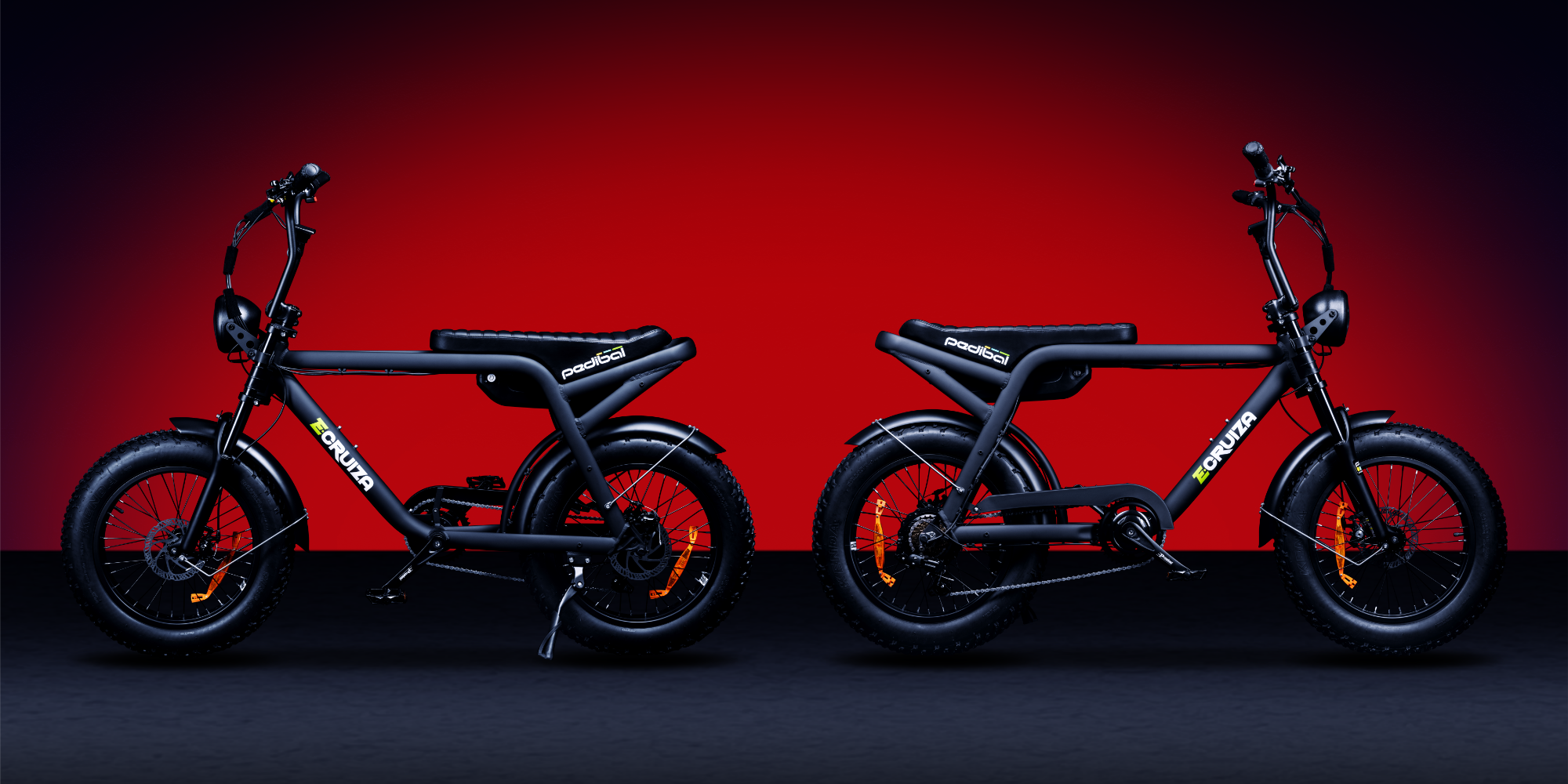 Tyre
Puncture-resistant 20x4.0 Kenda tyre
Break
Tektro M300 Mechanical Brakes
Motor
High-Performance BAFANG 80Nm 250W Motor.
Battery
LG 48V 12.8Ah battery with 4-hour charge cycle, USB port & key protection
Gearing System
7-speed SHIMANO gear
Peace of Mind
Front & Rear Light
Light up your ride with an integrated front light and easy-fit rear light, ensure safety and visibility wherever you journey. Ride confidently, knowing you shine bright on every adventure.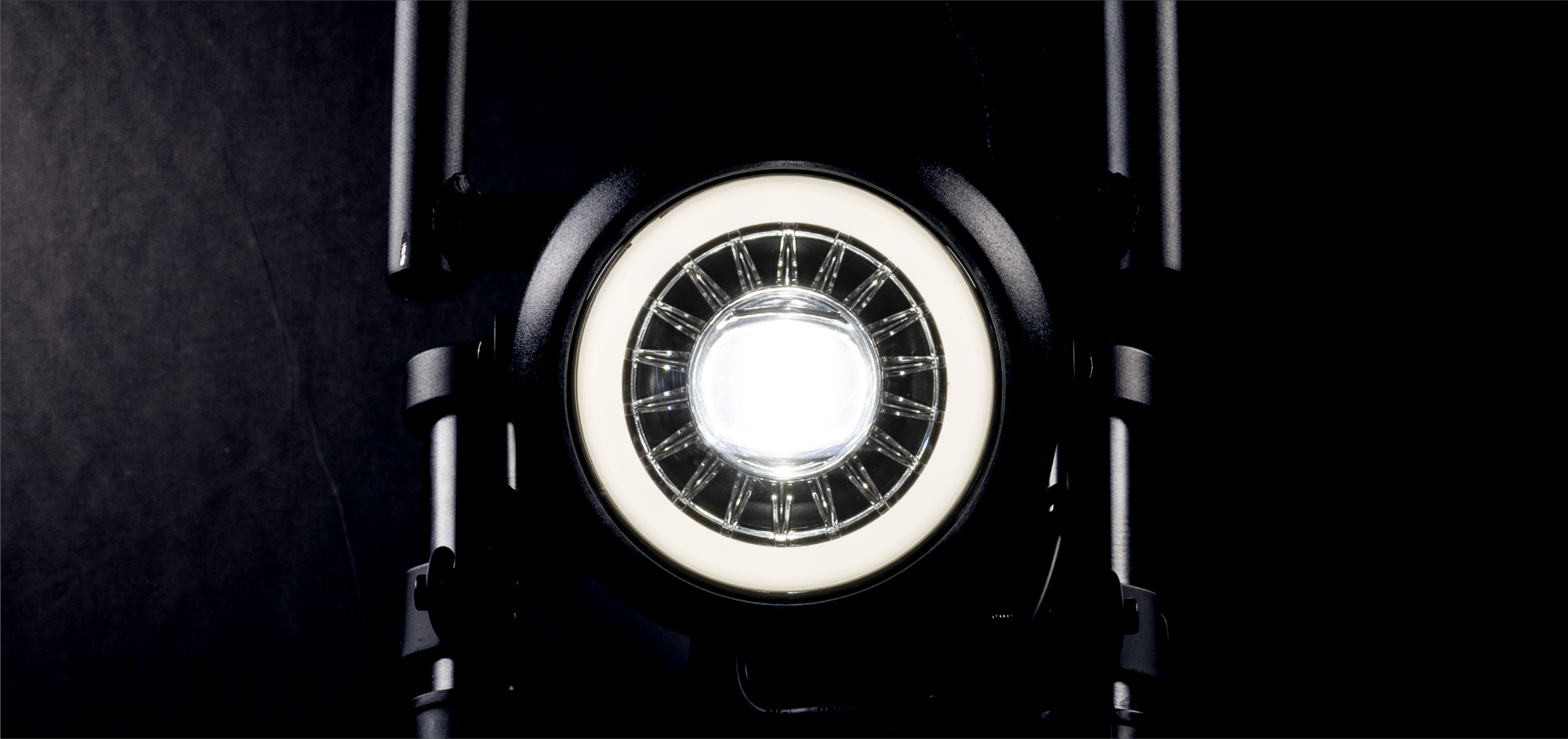 Front
Back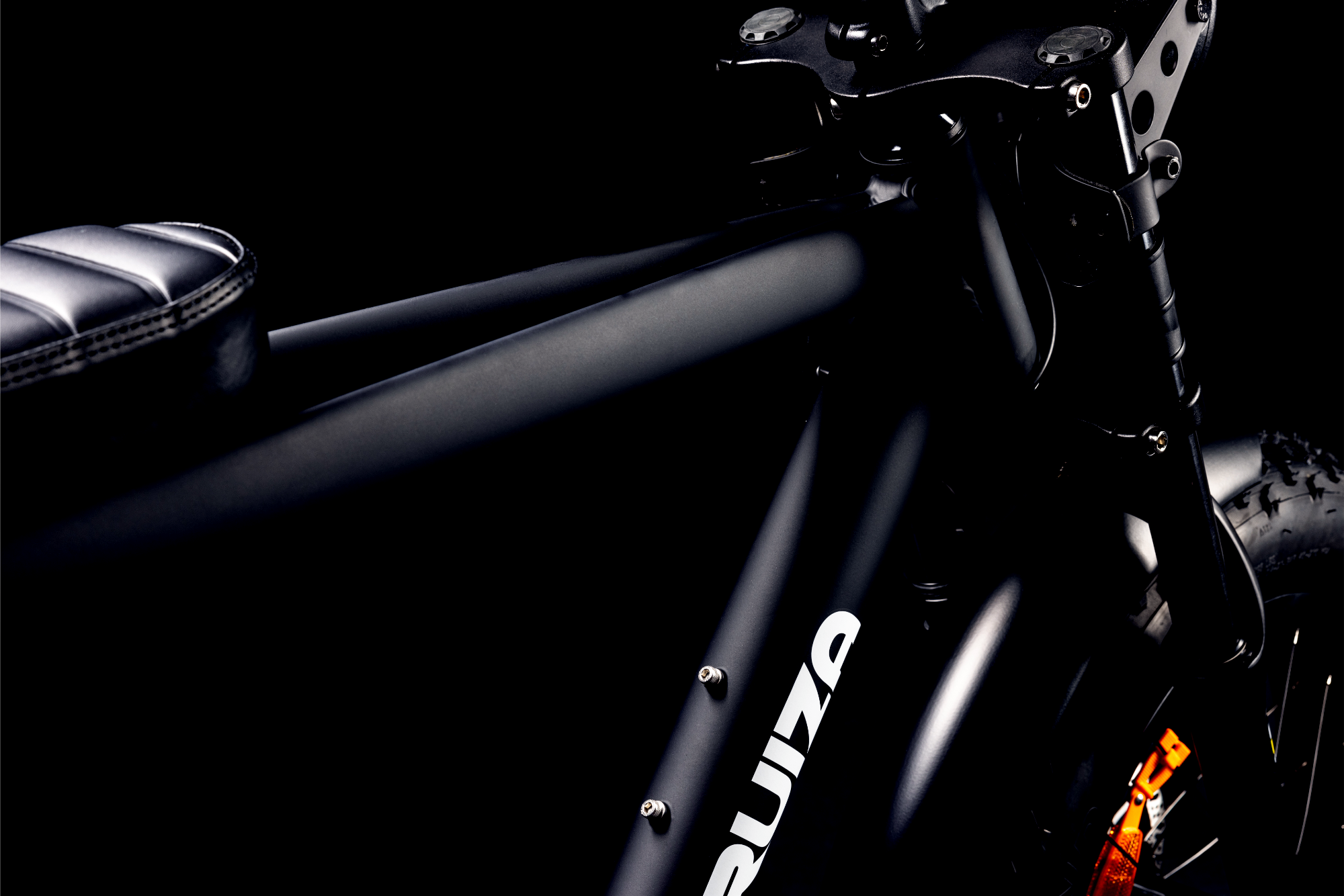 Full Aluminium Frame
Experience the fusion of strength and lightness with the Pedibal Cruiza ebike. Crafted from a full aluminium alloy frame, it boasts the sturdiness of a large cruiser bike but astounds with a featherweight profile of just 25KG. Dive into adventures with a bike that promises durability without compromising on agility.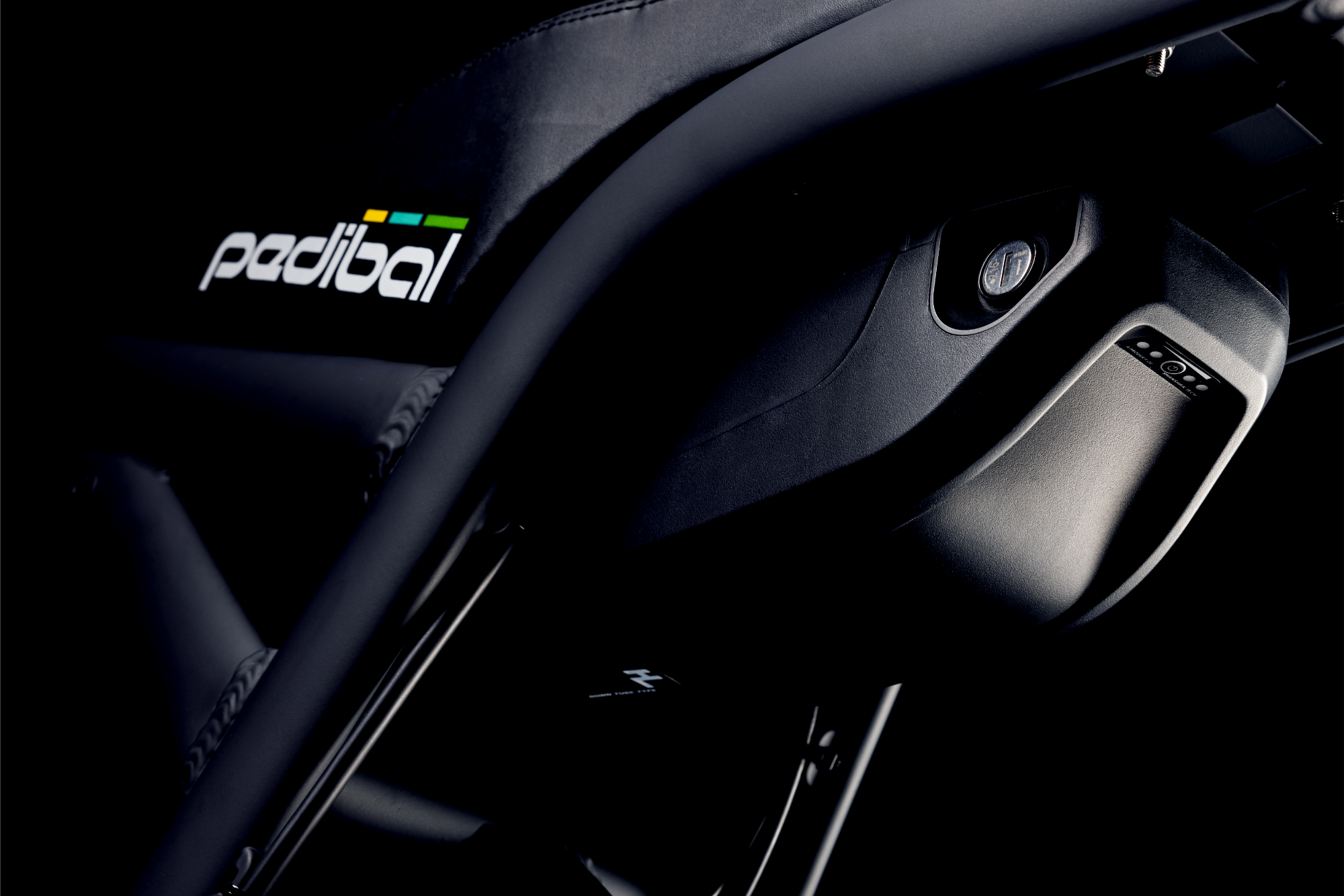 LG 12.8Ah Battery
Experience the power and trust of the Pedibal Cruiza ebike, powered by the reputable LG 48v 12.8Ah battery. LG's distinguished quality ensures a reliable ride every time. With a 48v voltage, enjoy rapid acceleration and smoother uphill journeys. Our 12.8Ah capacity sits in the upper echelons of standard e-bike batteries, giving you extended range without the cumbersome weight. While others may offer higher capacities, Pedibal Cruise prioritizes a harmonious balance between power, weight, and manageability. Ride further, faster, and with confidence, knowing you're backed by the best in the industry.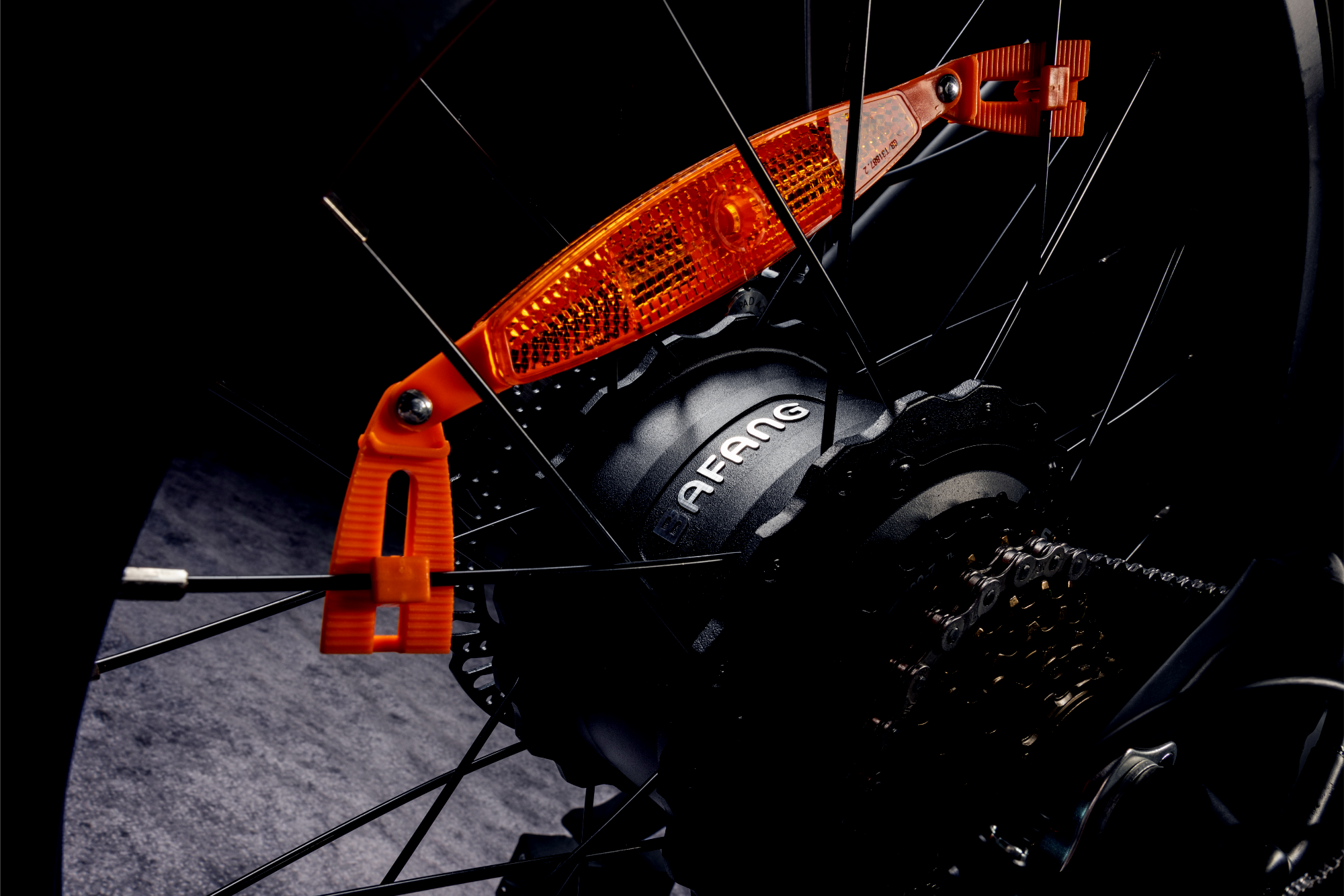 Powerful 80Nm 250W Motor
Discover the power of the Pedibal Cruiza, featuring a superior 80Nm 250W BAFANG motor. With torque being the heartbeat of e-bikes, our enhanced 80Nm ensures unrivaled hill-climbing prowess and rapid acceleration. Ideal for challenging terrains and demanding rides, this torque value outperforms most standard e-bikes. And, with the trust and quality of BAFANG backing our motor, you're guaranteed reliability and peak performance every time. Dive into a ride crafted for those who seek the best.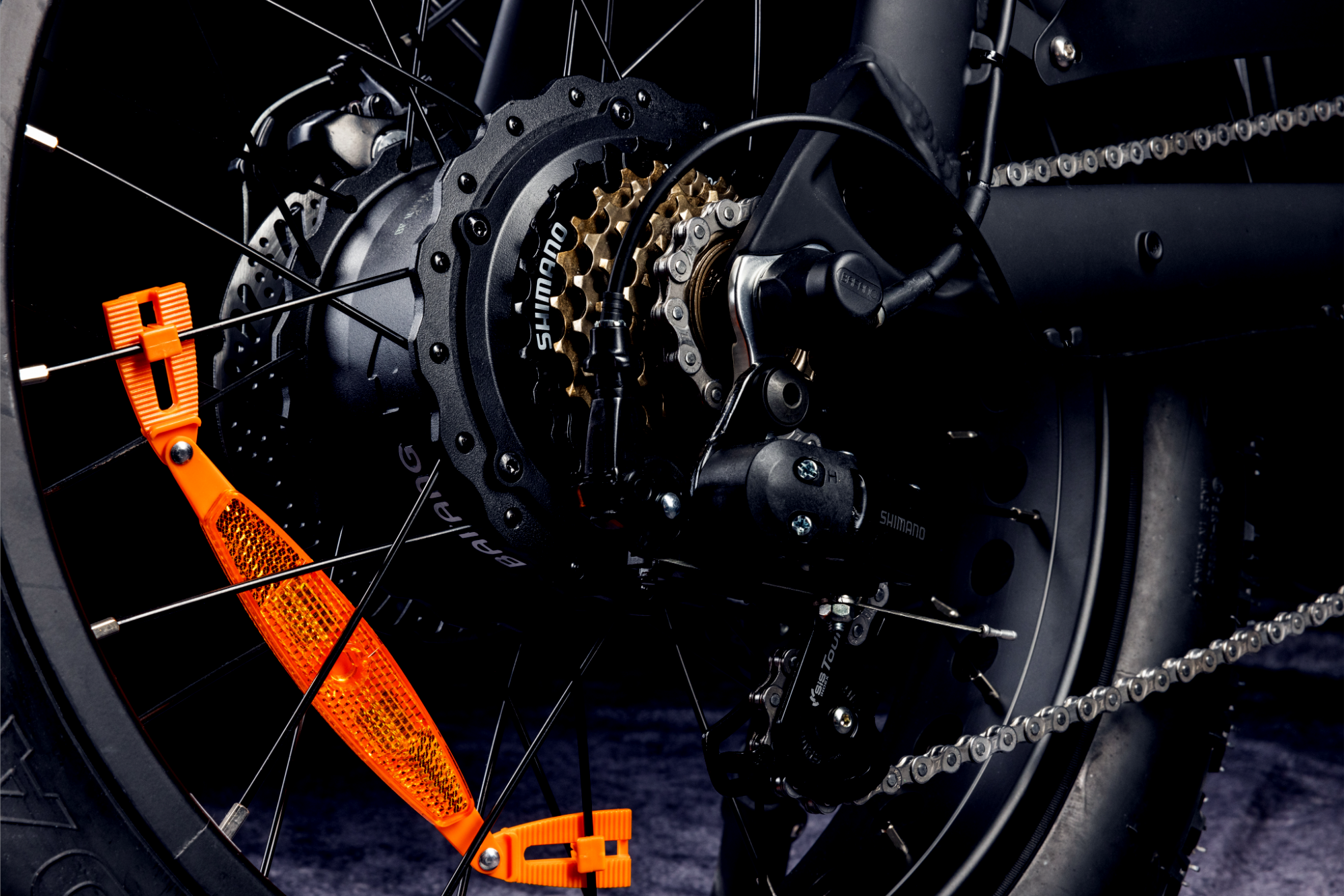 SHIMANO 7-Speed Shifter
Unleash your adventurous spirit with Pedibal Cruiza's Shimano gearing system! Whether you're a trail-blazing expert or a budding adventurer, our 7-speed configuration from Shimano's esteemed Tourney series promises precise and consistent shifts, even in the more challenging terrains. Conquer rugged trails, dart through urban alleyways, and tackle steep inclines with confidence. Designed for resilience and minimal upkeep, our gear system is more than just a feature; it's your ticket to unbridled exploration and thrilling rides.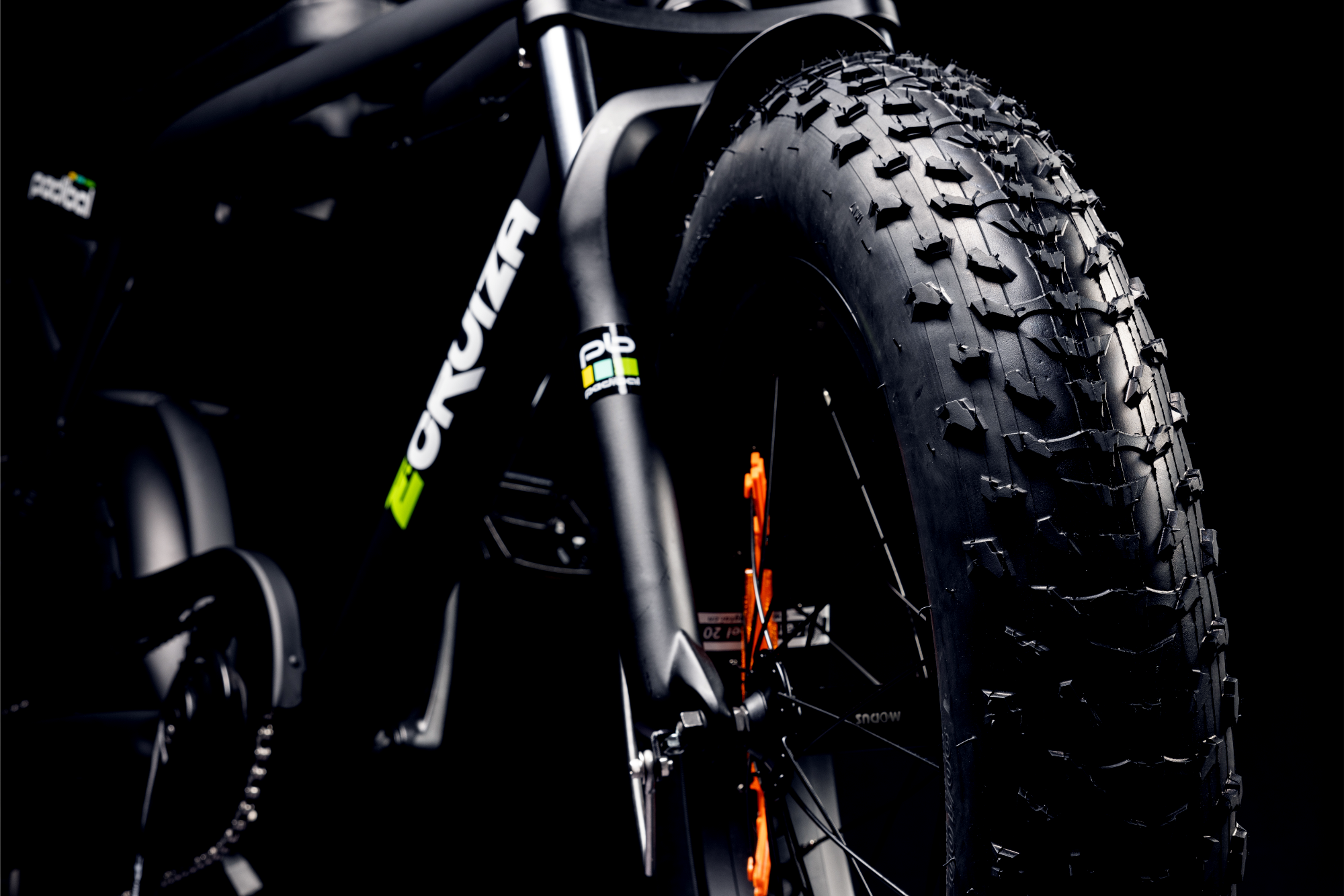 Puncture-Resistant Tyres
Embrace the freedom of the open road with Pedibal Cruiza's distinguished 20x4.0 Kenda K1188E tyres. Crafted with quintessential British outings in mind, these tyres are not just broad and robust but also exceptionally puncture-resistant. So whether you're ambling through the countryside or nipping about town, you can do so with the quintessential British assurance that an inconvenient puncture won't put a damper on your journey.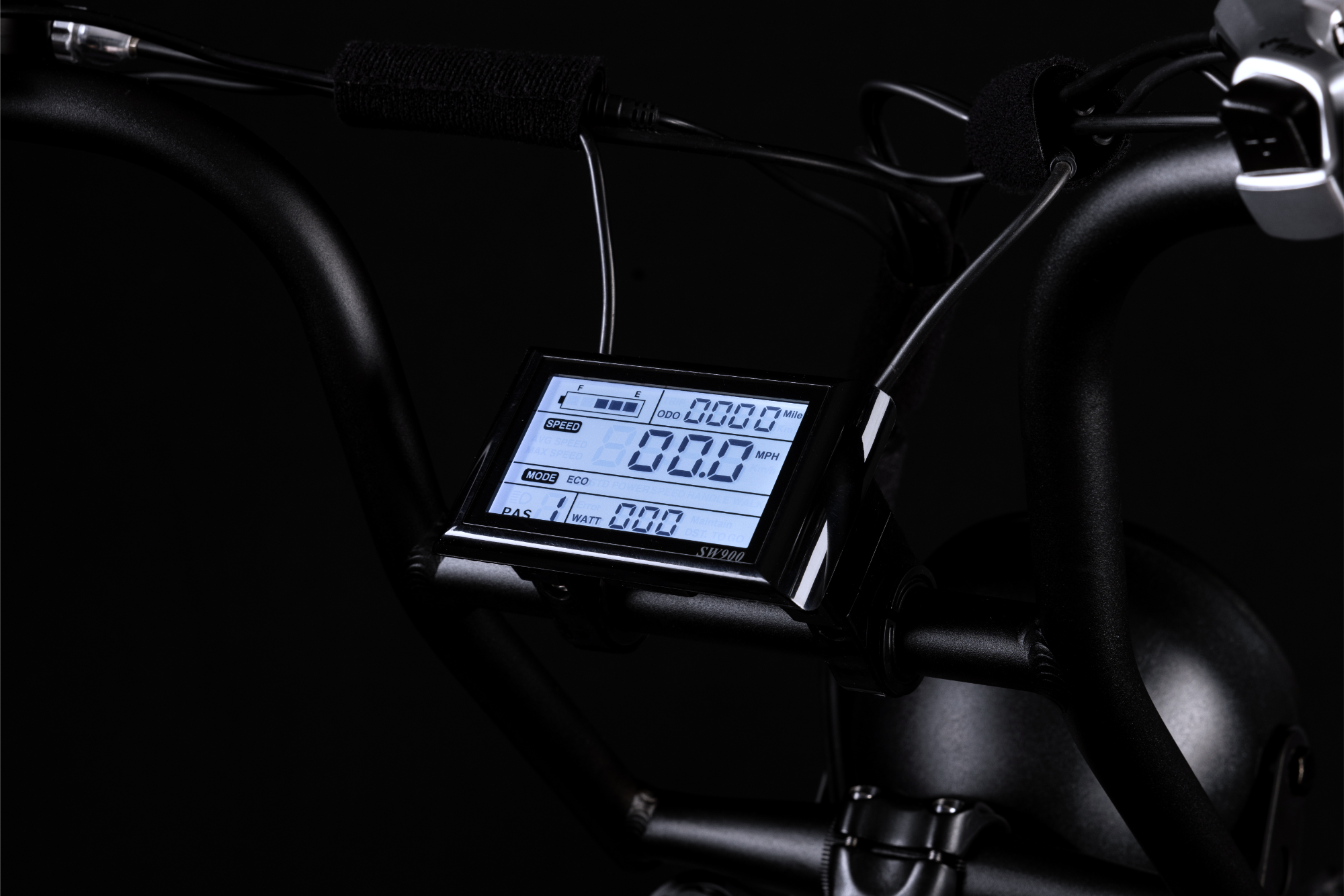 Multi-Function LCD Screen
The Pedibal Cruiza boasts an integrated LCD display, enhancing your ride with five distinct levels of electric pedal assist. This ensures amplified hill-climbing prowess and an extended journey range. Furthermore, this crisp digital display keeps you informed of vital metrics: accurate battery life, speed, and distance covered, all whilst being safeguarded against splashes with an IP65 protection rating.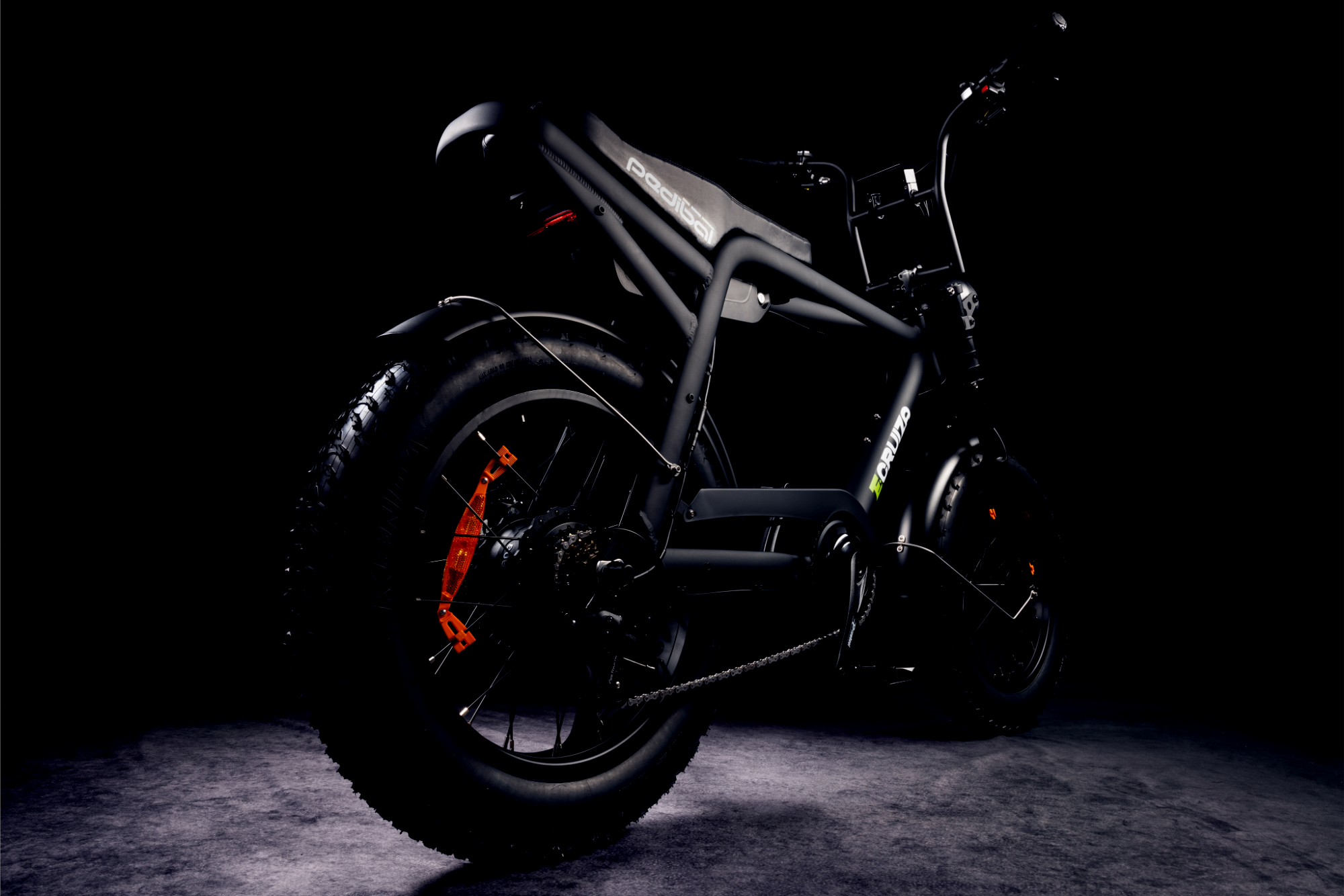 Long Range
Embark on more adventures with the Cruiza's impressive range, With the use of the included Cruiza LG 48V 12.8 Ah lithium-ion battery along with an electric pedal assist, many riders can experience a varied battery range of up to 30-40 miles*.
When using straight electric power (without pedalling), the range can fluctuate up to 18.6 miles*.

*Range estimates are contingent upon rider and towing weight, riding style, wind speed and terrain.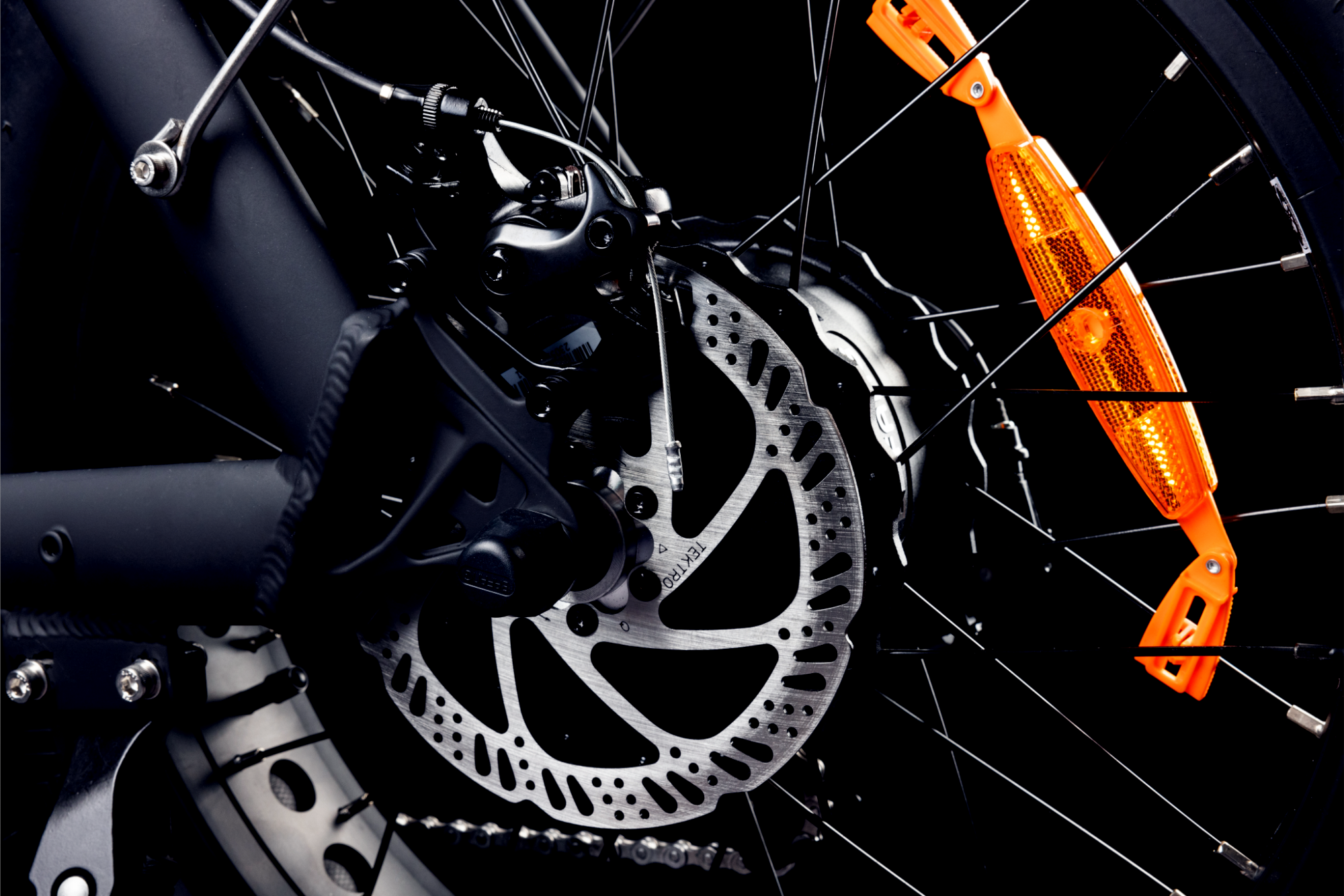 TEKTRO Mechanical Brake
Experience the steadfast stopping power of the Pedibal Cruiza's Tektro M300 mechanical brake system. With our robust 160mm rotors ensuring swift and secure braking across diverse terrains, our choice of a mechanical setup prioritises both safety and user-friendly features. The beauty lies in its simplicity – easy adjustments and straightforward maintenance means more time enjoying the ride and less time tinkering. Embrace a ride that's both reliable and uncomplicated, because at Pedibal, we believe in putting control directly in the hands of our riders.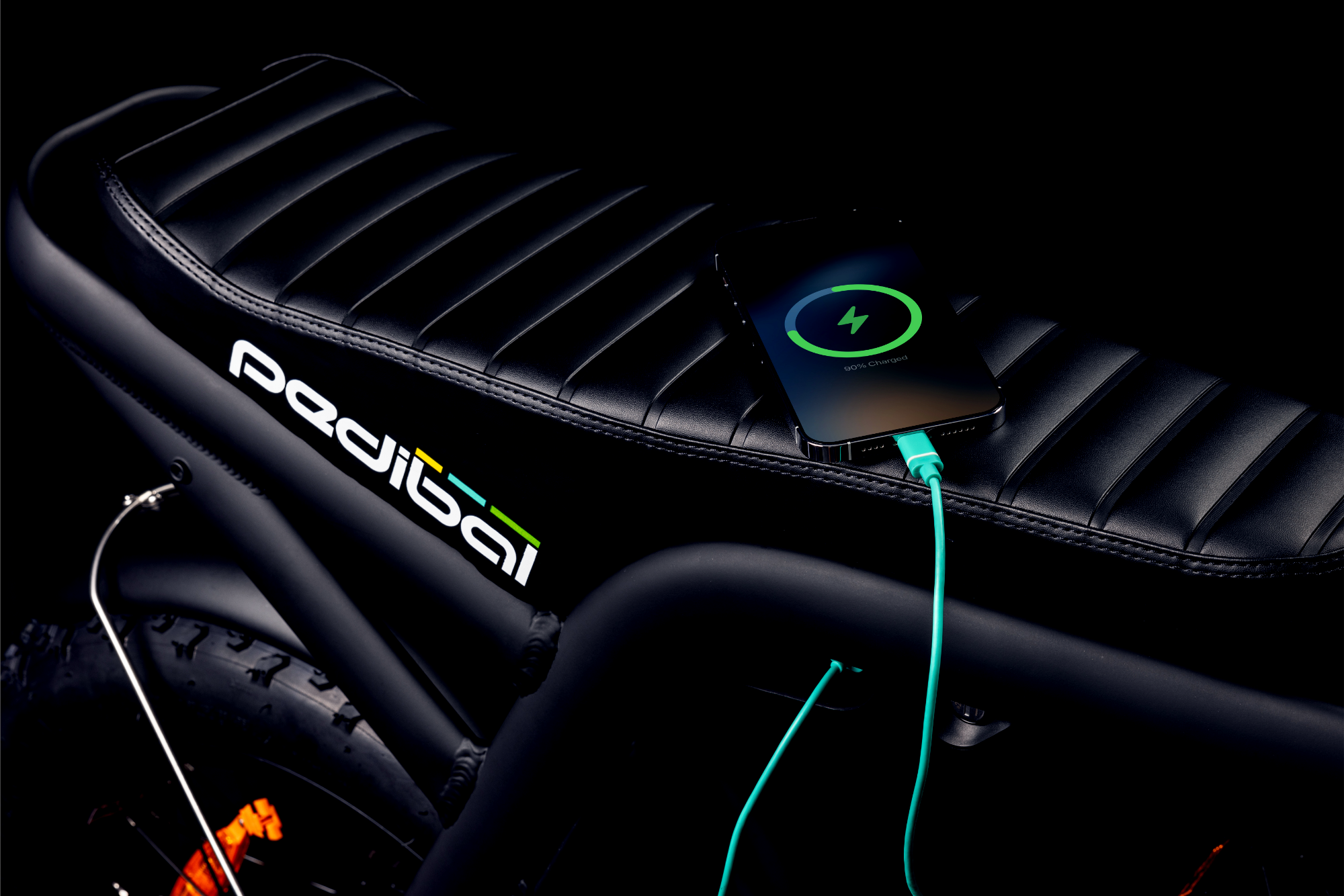 Battery and Mobile Charging
Stay connected on the go with Pedibal Cruiza's versatile USB charging port. Whether it's an iPhone, Android, or any USB-powered gadget, our e-bike ensures your devices remain juiced up, making every ride seamlessly connected.
Throttle
DVSA Approved Instant Throttle Acceleration Helps You to Kick Start the Journey with Ease.
Motor
High-Performance BAFANG 80Nm 250W Motor
Battery
LG 48V 12.8Ah lithium-ion battery
Range
Pedal Assist up to 40 miles (60 km)
Speed
Motor Assistance stops at 15.5 mph (25 km/h)
Charger
USB AC 100-240V, 2A smart charger
Tyres
Puncture-resistant 20x4.0 Kenda fat-tyre
Brakes
Tektro Front & Rear Promax Disc
Gearing
Outer 7-speed Shimano Derailleur
Weight
25kg. Maximum Load: 120kg
UPS Door2Door Delivery*
Easy Assembly
You can rest assured, each component of your new Pedibal is carefully wrapped in heavy-duty protective materials in our famous Pedibal ultra-thick, 7-layered "motorcycle-grade" box.
*USP Standard courier service booked Mon-Thu (order received after 2pm Thursday will be delivered in 3 to 5 working days)